Fruity Foaming Face Wash

Regular price

Sale price

$37.00 USD

Unit price

per

Sale

Sold out
Description
99.46% Natural
Approx 6 weeks of use, twice a day.
Wash the day off or better yet, start each day fresh with this juicy, mouth-wateringly fruity, foaming face wash.
Made from natural and organic ingredients, including our unique blend of rescued food waste that was destined for the trash, this gentle (yet effective) antioxidant-rich cleanser washes away dirt, pollution, and makeup to leave skin feeling squeaky clean but never dry.
With gentle brightening effects, this radiance-enhancing, gel-to-foam wash helps to balance the skin, reducing blemishes, breakouts and pores. The skin is left soft, soothed and deeply clean.
Dermatologically tested and suitable for sensitive skin all year round.
(Please note, due to the high content of natural and organic ingredients, batches may vary. Much like they do in nature)
Benefits

Skin microbiota is balanced, blemishes, breakouts and pores are reduced
Superb at removing makeup and washing off the day
Say hello to skin brightening properties
Antioxidant-rich ingredients protect and perfect skin tone and texture
Mood-enhancing blend of essential oils adds a little joy to your daily skincare routine
Gentle foaming action leaves skin squeaky clean but never, ever dry
Made with rescued, organic food waste, so it's kinder to the planet and to your skin
Dermatologically tested and suitable for sensitive skin
How to use me

Use twice a day, in the morning to start your day right, and at dusk to wash the day off.

Add a small dollop (a little goes a long way) to damp skin and work into a bubbly, soothing lather. Thoroughly rinse and follow with My Skin Feels Moisturised for skin that feels as good as new each and every day.

P.S. Don't forget to take a moment to breathe in all the fruity goodness. Our unique essential oil blend has an uplifting, mood-enhancing effect to fill you with joy – giving you a little boost every time you use it.

Pretty please recycle me

Separate the plastic cap from the tube and pop it in your recycling bin. (P.S please check restrictions with your local recycling authority)
View full details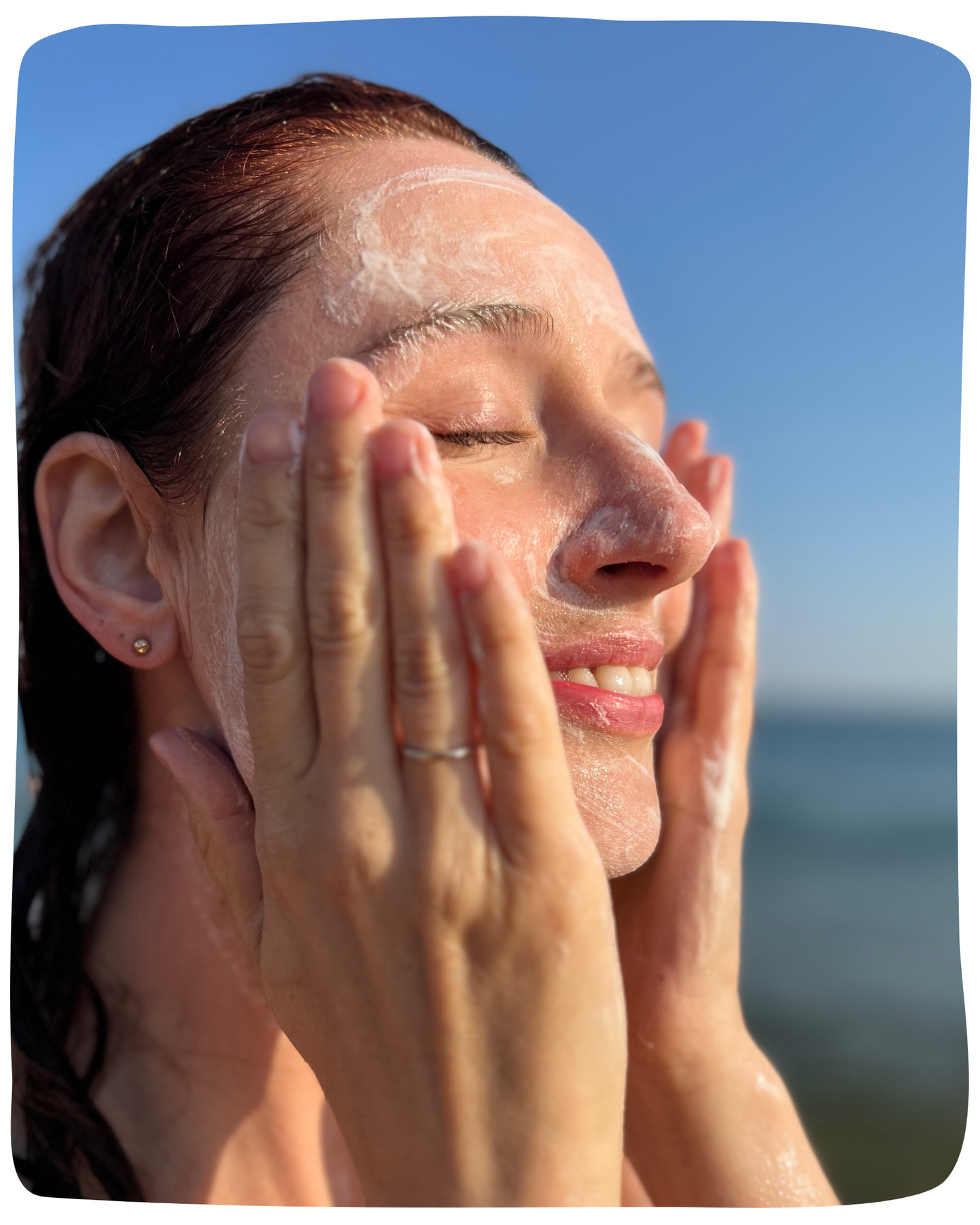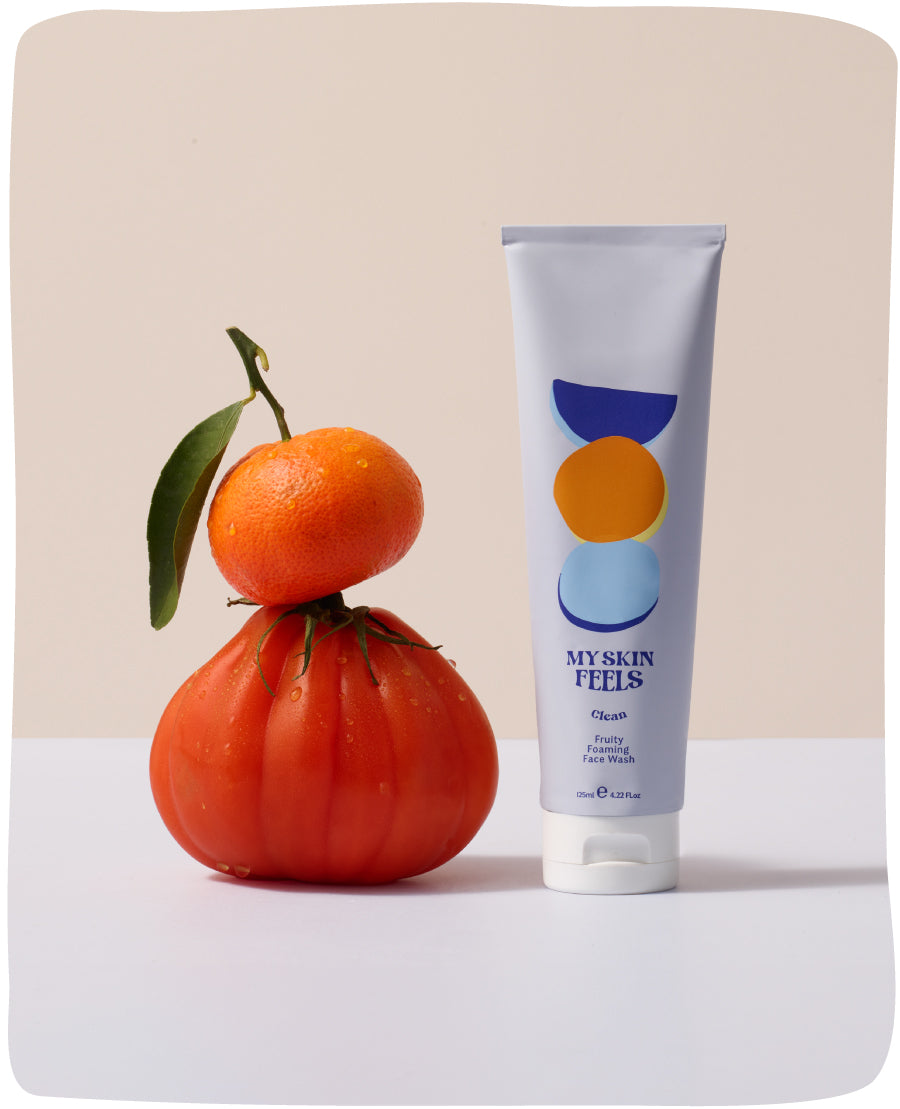 Finding beauty in waste...
Orange Juice
8kg of fruit waste = 1 litre of ingredients
We take water used from squeezing fresh, organic, Mediterranean Mandarins that would otherwise go to waste. This nutrient-dense water includes a whole host of antioxidants that can be used by the skin to brighten and perfect skin tone and texture.
This massively reduces the amount of 'new water' we have to use so this planet loving alternative gets a big thumbs up from us and an even bigger thumbs up from Mother Nature.
Tomato Ketchup
We take Italian tomato skins from the ketchup and tomato sauce industry that were destined for the trash and turn them into a skin superfood that's packed full of antioxidants.
These skin-brightening antioxidants protect the complexation from free radicals (generated by UV rays, pollution, and other environmental toxins) working to brighten the skin leaving it feeling nourished, soothed, and oh-so radiant.
Breakfast Oats
We take soothing, organic, Italian oat waste leftover from the food and breakfast industry and ferment it before it goes into our skin-loving products.
This unique fermentation process helps to increase their natural antioxidant and amino acid content, to reduce inflammation and balance the skin's microbiota. The result is an active ingredient that helps to reduce breakouts and prevent dry skin, leaving the complexion feeling calm, restored and unbelievably soft.
Olive Oil
We use by-products from the organic Italian Olive Oil industry (the OG's of OO) that would otherwise go to waste to create our super smooth moisturiser. 
This wonder plant is packed with antioxidants and has been used for thousands of years to enhance
the complexion. We use a unique blend that includes Olive Pomace to help your skin better absorb our products for bright, healthy, resplendent skin all day long.